Women, minorities fasting-growing groups seeking license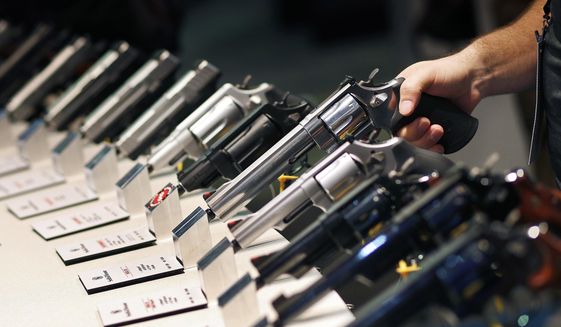 More than 14.5 million Americans are now licensed to carry a concealed handgun — a jump of 1.73 million in just a year, according to new research that says women and black Americans are among the most eager to sign up.
More than 6 percent of the adult population in the U.S. now has a permit to carry a concealed weapon, according to John R. Lott Jr. at the Crime Prevention Research Center. And those who actually carry is likely much higher because nearly a dozen states don't even require a permit to do so, he said.
Florida, Texas and Pennsylvania each have more than 1 million registered permit holders, while in the smaller states of Indiana and South Dakota, about 15 percent of all adults are permitted.
"Part of it is just Obama. We have had a big increase in people buying guns, but it's pretty clear it's broader. It's not just the number of guns, it's clear more people are using guns," Mr. Lott said.
The numbers come at a time when the gun debate is heating up nationally, with the two major party presidential candidates battling over gun ownership and use. GOP nominee Donald Trump is a concealed carry permit holder himself, while Democratic candidate Hillary Clinton has called for cracking down on firearms ownership.
Several gun control groups either didn't respond to messages or were too busy with the Democratic convention in Philadelphia this week to be able to review Mr. Lott's findings.
Mrs. Clinton, who was officially nominated by Democrats on Tuesday, is on record saying she doesn't think more people carrying weapons is positive. Mr. Trump, meanwhile, says more people with guns can curtail dangerous situations.
For now, Mr. Trump's stance is prevailing.
Mr. Lott said every state in the U.S. now allows concealed carry for firearms, as does Washington, D.C., which began to issue permits earlier this year.
The rules vary widely among states, but permits are much more popular in states where the permits are easier and less expensive to obtain. By contrast, states where the government has more discretion to refuse to approve applications end up with a lower rate of permit-holders.
Mr. Lott calculated that a 10 percent increase in the rate of permit-holders translates into a 1.4 percent lower murder rate.
The Obama effect on the gun industry has been profound. Just about every measure shows firearms have become more popular during his tenure — sales, manufacturing, background checks and permits — as he has pushed for tighter restrictions.
Mr. Lott said women are growing as a share of permit-holders, with nearly one-third of permits in Tennessee and one-quarter of permits in Florida, Texas and North Carolina now held by women.
Texas also tracks permit-holders by race, and while whites still hold the vast majority, the rate of black permit-holders has grown more than twice as quickly, he said.
That tracks with recent polling that has shown a large increase in the proportion of black Americans with a favorable view of guns.
Mr. Lott also said permit holders are exceptionally law-abiding — even compared to the police themselves, who he said are six times as likely to be convicted of misdemeanors or felonies as permit holders are. That's true even for crimes involving firearms; permit-holders are one-seventh as likely to run into such trouble as the police.